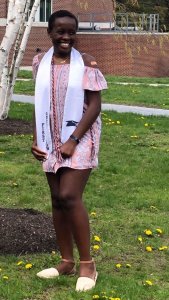 On May 1st, USAP Alumna Nicole Kumbula, pitched her social business venture "Ukama Igasva" for the Bates College Bobcat Ventures Entrepreneurship Pitch Competition Final. The pitch had an opportunity to win up to $15,000 to fund any entrepreneurial project. "Ukama igasva, unozadziswa nekudya" can be translated to "Relationships are not complete until they are solidified with a meal" and through Nicole's social business venture, she hopes to restart cattle farming in Serima village to address food insecurity and revive the agricultural and social morale that was lost during the global financial crises of 2008. In her pitch, Nicole spoke of the value of cattle in the African cultures for household farming, transportation, assets for barter trade; as well as the socio-economic value of cattle in social rites such as marriage and celebrations.
"In 2008, at the height of the global financial crises like most countries, many people lost their jobs. Zimbabwe was not immune from this. Zimbabwe's globally published hyperinflation left my mother and her siblings unemployed, without any savings, and unable to pay rent. My grandmother had savings in the form of cattle. Initially these were just for milk, and to use for tilling the land to grow maize. However, as 2008 progressed, slowly my grandmother's cattle became the only stable source of income for the entire tribe, and she sold most of the livestock and paid for her children's (my aunts and uncles) rent and her grandchildren's tuition. I was a benefactor of this fund, as my entire first year of boarding school was paid by proceedings from this herd. This is not just my family's story but that of many in the Serima Village who became the breadwinners as they sold their cattle to sustain their lives and that of their children and grandchildren. More than a decade later, the social status and agricultural power of owning cattle has not returned to this community.
The COVID-19 pandemic has further exacerbated the urban and rural disparities in Zimbabwe.  Ukama Igasva will revive the vibrant cattle subsistence family farming for Serima village. Being a communal village that is highly interdependent, there are no credit cards, and for the most part no physical money is used due to the instability of the Zimbabwean dollar because of inflation. Most "transactions" in my Serima village are done through barter exchange and loaning as the community has built resiliency through trust and a shared desire to watch over each other. The reintroduction of cattle farming to this community will boost financial stability for the 20+ homesteads, as well as revive community morale."
Nicole Kumbula was the 2nd Runner Up for the Bates Bobcat Ventures Pitch Contest and received funding to start working on this venture this summer of 2021. Nicole is graduating from Bates College with a Bachelor of Science in Chemistry. Nicole will be going on to pursue a masters in Chemistry at Texas A&M-Corpus Christi's Harte Research Institute of the Gulf of Mexico studies this fall.