As I flipped through the final pages of Chimamanda Adichie's Purple Hibiscus, I could not wait for the last Friday of March to arrive. Each page had issues worth discussing, and I wondered how amazing it would be doing so with the exceptional and interesting members of our Education Matters Book Club. Unfortunately, I could not make it for this first meeting and I really knew how much I missed by being absent. However, the diversity of the Education Matters library meant that there were many other intriguing books to devour. I attended and very much enjoyed all of the following meetings.
What I enjoyed most about our book club was that it was open and free. Everyone had a say in choosing the next book to read after each meeting from among the book club shelf. During the monthly discussions everyone was free to express their opinions, no matter how divergent. Nobody was judged and no one person was right or wrong. I was fascinated by how opinions usually differed and appreciated how people perceive an issue in diverse ways. I learnt to consider others' thoughts by understanding where they might be coming from, a skill and mindset I believe is essential in living and working with others.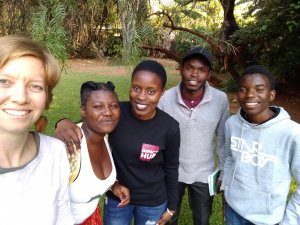 The reading itself was as fun and transforming as the meetings. We tried as much as we could to diversify our readings – from the emotional The Uncertainty of Hope, the motivating The Other Wes Moore, the hilarious and romantic The Hairdresser of Harare to Someone which was full of mystery, a genre with which I was not previously very familiar. Because of the club I have been drawn to African novels and they have become part of my pastimes; they helped me to endure the extreme electricity load shedding that has become common in Zimbabwe.  We concluded our book club sessions with treats, especially memorable being the homemade cupcakes brought by Rebekah Bell during our last discussion. I have truly benefitted a lot from the Education Matters book club, especially as a bridge between my pure science A level high school experience and my future liberal arts college education. I hope to be part of many book clubs in the future.
Samuel Zana is a USAP student who studied his A levels at Zengeza High School and recently started his college journey at Harvard.